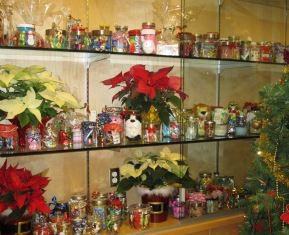 The Lynn Fripps PAC is holding a Holiday Jar Bazaar for the students on Tuesday, December 16th! This is a fun event for students to both create and shop for a little something thoughtful that comes in a jar!
The one Primary class (K- Gr 2)  & one  Intermediate class (Gr 3-5) that brings in the most jars by Friday, Dec 12th will receive Milk & Cookies for their entire class AND be the 1st two classes inside the Holiday Jar Bazaar to shop for a jar!!
So… how does a Holiday Jar Bazaar work?
Each family is encouraged to bring in one decorated jar containing a new item(s). But feel free to bring more (Milk & Cookies is a great incentive)! On December 16th,  each class will take turns entering into the Holiday Jar Bazaar to look around, and every child may purchase one decorated jar of their choice (Prices range from $1-$5). When every class has come through, students interested in another jar may return to buy what is left!
This has been an incredibly successful and enjoyable event at Lynn Fripps in the past. If you're looking for ideas of how to create a great jar… read on!
Making & Preparing Jars for the Holiday Jar Bazaar:
All items must be new.  We CANNOT accept any used items, open candy or homemade food in jars.
All jars must be clean (please wash off pasta sauce, jam, pickles, Cheez Whiz, etc!). Any jars that appear dirty and/or items appear to be used, will be returned to student(s).
All labels & adhesive must be removed from the outside of the jars.
All candies and chocolate must remain individually wrapped.
Cookie mixes can only be store-bought and not homemade.
Any packaged food items must be completely NUT FREE!
Try to keep original packaging/labels on items.
Get creative with decorating, as long as we can see what's inside!
Visit the front hall display to see the jars that have come in!
Ideas & Inspiration for the whole family!
❅    Teas, Coffees, Hot Chocolate
❅    Christmas Ornaments
❅    Bath Items
❅    Golf Balls & Tees
❅    Candles
❅    Puzzles
❅    Games
❅    Gift Cards
❅    Dry layered cookie mix
❅    Kids toys
❅    Pet Toys & Treats
❅    Hand Puppets
❅    Mitts/Gloves/Scarves
❅    Flower Seeds
❅    Socks
❅    Hair Accessories
❅    Hot Wheels
❅    Aftershave / Perfume
❅    Hand & Body Lotions
❅    Jewellery
❅    Lip Gloss
❅    Wrapped Candies or Chocolates
❅    Nail Polish/Pedicure Sets
❅    Ties
❅    Marbles
❅    Small Stuffed Animals
❅    Lego
❅    Key Chains
The PAC is requesting each family to prepare and donate at least one jar per child. Jars can be sent to school with your child any day beginning December 4th through December 12th. We can't wait to see what you create!